 Encouraging more sustainable travel to school in Klaipėda
Cars bringing children or young people to school is a major contributor to congestion and pollution in the port city of Klaipeda (Lithuania). To find out what would convince parents to encourage their children to take more sustainable transport, Klaipėda City Municipality conducted a survey with residents of the city.
Respondents could give seven answers on the factors that would influence them:
More bicycle storage near the educational institution;
Development of more cycle paths to and near schools;
Greater opportunities for bicycle rental;
Better maintenance of bicycle paths in winter;
Development of cycle paths between the wider Klaipėda district and the central city;
Faster public transport; and,
More frequent public transport from the wider Klaipėda district to central Klaipėda.
When the results came in, one answer stood out: 32% of respondents said that more frequent public transport would prompt them to consider leaving their cars at home for the school run.
In relation to cycling, 16% of people indicated that installing more bike storage facilities and creating more cycle paths near educational institutions would sway them towards sustainable travel. The full survey results are in the image below.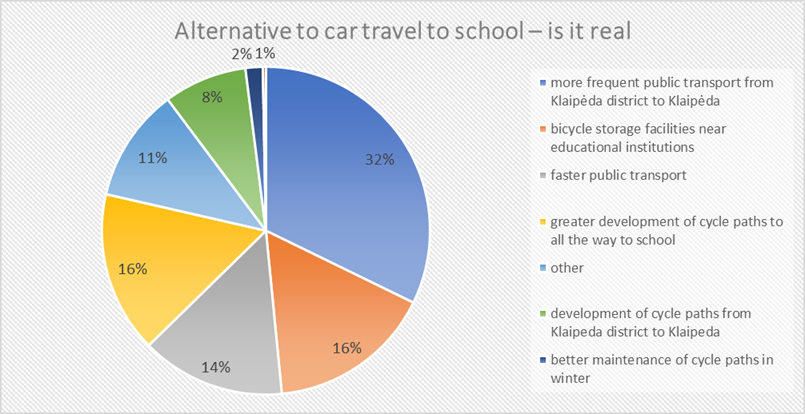 Andrius Samuilovas, the Interim Director of Klaipėda's public transport authority, said that before the COVID-19 pandemic, schoolchildren and students were one of the main groups using public transport services.
"Public transport remains the fastest and easiest alternative to cars. In most parts of the city, there are stops within a 300-400m of schools and other educational institutions. Pupils and students also benefit from an 80% discount on monthly public transport tickets. In Klaipėda, every working day, a student can make an unlimited number of trips for €4.40."
Laura Tarozienė, Chairwoman of the Western Lithuanian Parents' Forum, emphasised that when considering how children can travel to educational institutions in a sustainable way, the highest priority for parents is their children's safety.
With the help of project partners in SUMP-PLUS, Klaipeda is seeking to become a city in which sustainable travel options are people's natural choices. Klaipėda also recently participated in CIVITAS PORTIS.
Find out more on the work in Klaipeda's City Lab on its dedicated page.
All news